I meant to write yesterday - but signally failed - on
this simply extraordinary article
by Seumas Milne in Al-Graun yesterday - bemoaning the bad press that is dished out in the direction of communism.
Here is the accused. Pretty grim looking if you ask me. The "Pixellation" on scaling up seems somehow appropriate, rather like a bad photo-fit of a dangerous criminal.
Quite a number of people noted this article also:
For my part, there are two lines in this that really sum up this whole sorry tale:
"For all its brutalities and failures, communism in the Soviet Union, eastern Europe and elsewhere delivered rapid industrialisation, mass education, job security and huge advances in social and gender equality. It encompassed genuine idealism and commitment ..."



Rapid Industrialisation, eh?
I remember it well. The miserable capitalist "West", impoverished and lacking in any idealism or commitment, had to make do with such ghastly vehicles such as these:
and these:
And of course, this:
Oh the tyranny of consumer choice. It was awful.
In the same period, the glorious industrialised communist "East" managed to produce this: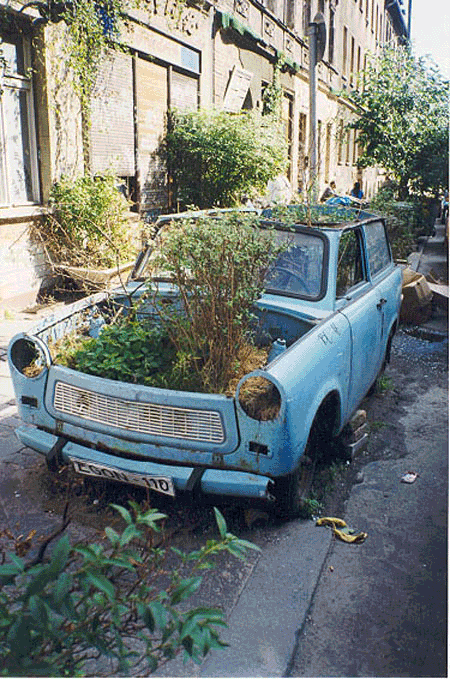 OK, so that's not a very flattering publicity shot. How about this?
Errmm....
All right, but the idealism and commitment bit was cracking though, wasn't it?
Especially if you suggested ideas about how to do things differently and maybe better:
Errmmm.... We all make mistakes and it's the thought that counts. Everyone meant well really.
The particular form of society created by 20th-century communist parties will never be replicated. But there are lessons to be learned from its successes as well as its failures.



Never be replicated? Zimbabwe anyone?
But I suppose he does have a point: there are indeed lessons to be learned from the successes of communism:
that they were eclipsed entirely by greater achievements in the free world in every field;
and that they were predicated entirely upon totalitarianism without which the system crumbled completely.
the little car analogy is rather apt. The closest that the UK got to this form of nonsense was during the 1970s. What did we produce then? This:
P-G Verdict:
A quick glance at
my manifesto
is illuminating. When I set down my thoughts, "Advocating communism" was such a ridiculous idea that the offence is not even covered, which makes this judgement a little tricky. I suppose this article could be covered by:
Advocating Socialism for communities larger than a small farm, when one is in a position of power

but, somehow, I don't think that
A Sound Flogging, to be administered on the steps of the perpetrator's club
is either sufficient punishment or deterent for a mind so twisted as Mr Milne's.
However, I am minded to ask what is communism if it is not the act of "Preferring equality of outcome over equality of opportunity"? This gets us into a more sensible section of the P-G Penal Code.
There is, however, a more serious charge here. In his attempt to equate Nazism and Colonialism as progenitors of systematic, deliberate, state-sponsored murder (whilst simultaneously distancing communism from this little institutional flaw), he states:
Tens of millions perished in avoidable or enforced famines in British-ruled India

I shall borrow Tim J for a moment here:
Presumably Milne is referring to the two famines that affected Bengal during British rule. The first was in

1769-73

, six years after control of Bengal had been established. ... The reason for the famine was that the two previous harvests had failed.

....

The second famine happened in 1943. This was less severe and better ameliorated, but deaths were still in the region of 3 million. The dearth was largely the result of the fact that Burma, which had provided up to a third of Indian imports of rice, was at this point almost entirely overrun by the Japanese, while scarce food was concetrated on Calcutta, in an attempt to protect the city from defeat or siege.
Avoidable? Enforced? Deliberate? State sponsored? Comparable? Tim J again:
The only 'enforced' famines have occurred in Communist countries - the Ukraine, Ethiopia under Mengistu, North Korea. To talk of 'enforced famines' in British India is both ignorant and malicious. To do so in an attempt to make them seem worse than Communist countries that did enforce famines is revolting.

That's moral equivalence to you and me. And that's a hanging offence.